The best coves of the Algarve are in Sagres
Paradise is in the south of Portugal, and if you dont believe it, come to Wavy Surf Camp and discover the best coves of the Algarve. The sand and sea corners in Sagres have a special charm –  you won't see two similar caves, as all of them are special. Come and discover it for yourself! Holidays are just around the corner and you just want to travel, travel and travel.

But for sure, not to the typical place full of tourists and with the same options as always. So, we suggest a summer full of surf and rock and roll, well, not rock and roll, but good feelings for sure. And all of this in the middle of a wild and beautiful nature where you will lose yourself and find yourself hundreds of times.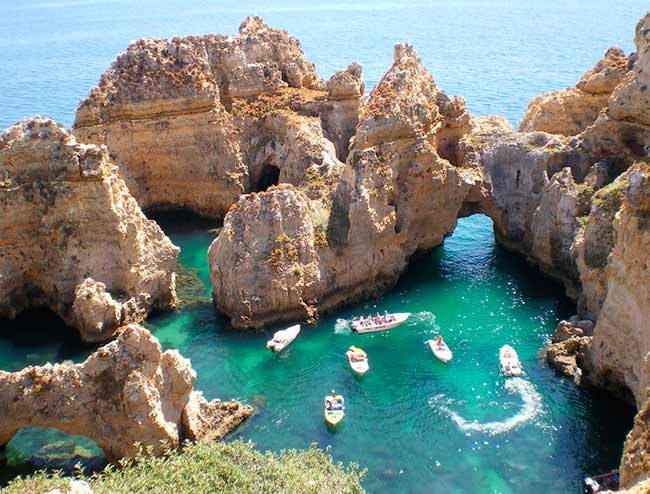 Let´s start the list of the best coves of the Algarve with Ponta da Piedade. If you come to Sagres and you don't get to know the Lagos coves, you have come for nothing. This part is known as the Costa d'Oiro or Golden Coast and when you visit it you will take so many pictures that your mobile phone will break down. There you will see an architectural labyrinth, perfectly carved in the rocks, and taking roots at the bottom of clear waters of blue and emerald. What we are telling you is that all the pictures will not be enough, and not because you don't like your face in them, but because you will want to take pictures of everything, because it is a truly magic place.
The second cove that we suggest is hidden between the tip of Sagres and the Cape of Saint Vincent (don't forget to see it) and is the Beliche cove. You'll access this wonderful place through a long stairway, because the mountains enclose this cove, protecting it from the strong wind. This is the perfect place for surfing and to spend time with your friends as the atmosphere is incredible. It is not so crowded so you will hear the sound of the waves perfectly.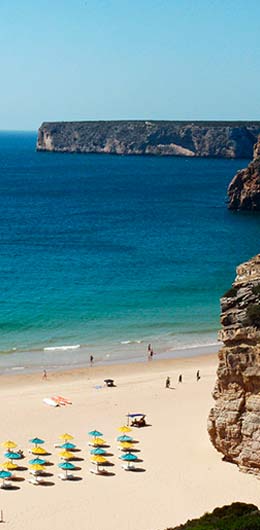 The third visit that we are going to suggest is not exactly a cove, but you are going to love it, because we are sure you have never seen anything similar. It is known as El Algar de Benagil (because of the closest village) and it is a sort of sea cathedral. You only can arrive to this place by boat and the first thing you will see is a mysterious cave through which you will access an incredible dome, a result of the long time and erosion. Simply dreamlike.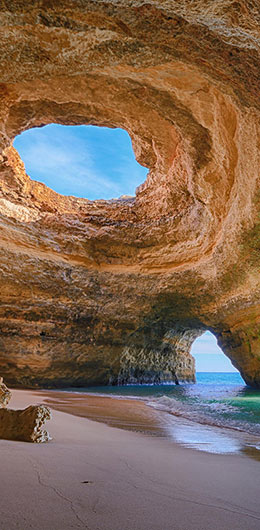 We dont know if you now feel like coming to Portugal, but the truth is that if you come to our Camp this summer you can visit magic places like these ones. Wavy Surf Camp is much more than a surf camp, it's an perfect place to live an unforgettable experience.