A typical day at Wavy Surf Camp
A story told from the heart of  Sagres in the Algarve of Portugal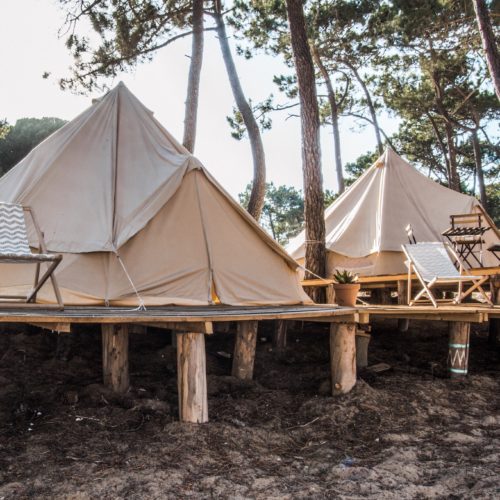 7.45: Your alarm rings … Ring Ring Ring … Is it time to get up already? You look around and suddenly realized that you are sleeping in a teepee surrounded by nature in an incredible place and an injection of adrenaline makes you jump out of bed. It is a new day and a new adventure is coming! You open the teepee, look towards the sky and a feeling of peace and good energy runs through your body… You hear some noise coming from your belly… It is time for breakfast!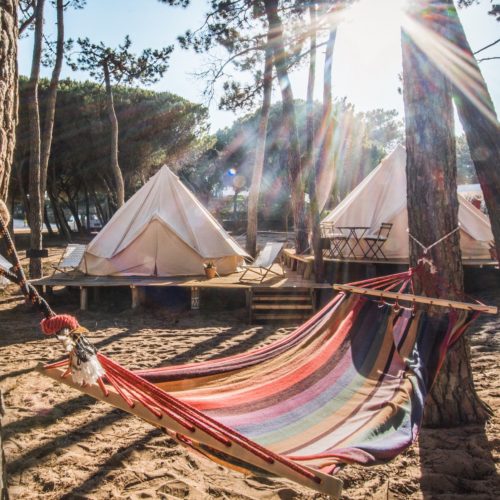 8.00am: You eat your breakfast served by the boss of the kitchen "Alex" with whom you had a good laugh last night. You remember how fun was last night while you talked to people from all around the world about what awaits you today. You realized that you should have paid more attention at school during Spanish lessons. But  it is okay! 😉 You are making so many friends with the same desire to enjoy the sea and nature as you do.
9.15: You have everything ready to get in the car that will take you to the beach today. What nerves! Will stand up on the board? How big are the waves? … After a half an hour drive through a beautiful landscape the car turns and you reach the parking site just above the beach. You look out and a big white sand beach appears in front of you… Breathtaking! Well, I already like surfing and we haven't even started!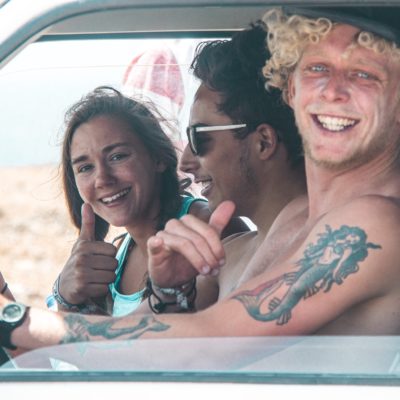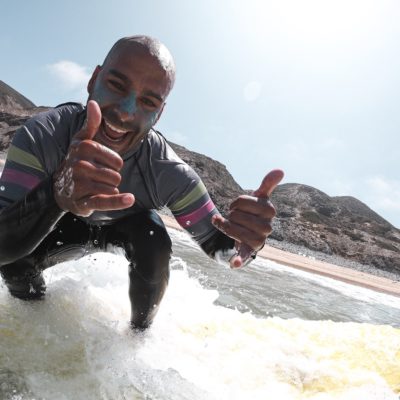 The following hours fly by. Warm up on the beautiful beach, some smashes on the shore, a lot of adrenaline, laughs of yours, laughs of your buddies, and you make it … You stand up on the board and ride a wave!  It feels like you glide over the sea … And you understand everything. You understand why surfers are always laughing; you understand why they tell you that surfing changes everything. Yeah Now you've already squeezed that feeling and from here you will always want more!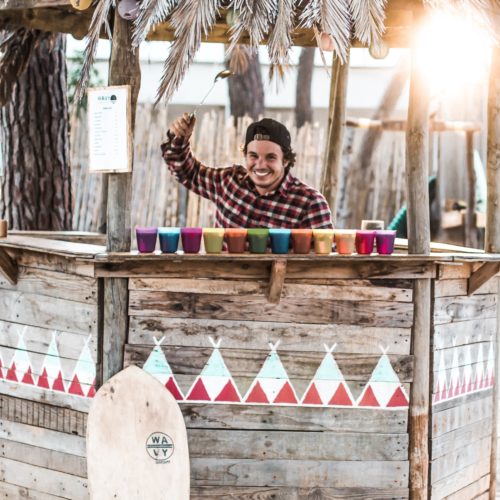 14.00: You realize that time has passed simply because your gut roars. Wow! Time flies here! You grab your picnic box and enjoy your food on the beach chatting with all your new friends. Mate this is life! Play some volleyball, laughs on the shore, a little bit of skyball game and it's time to return to the camp.
16.00: Back to the camp you relax for a little while in the chill out area. Try a little how this skating in the mini ramp is going …
17.30: Today is Yoga day. You head to the beach for your session. How good this exercise feels to stretch your muscles well after all day. Namaste!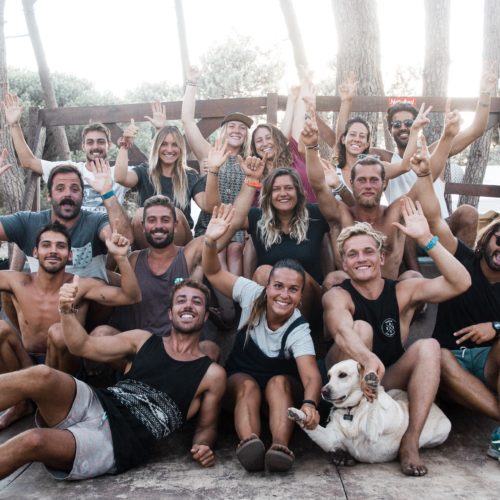 19.30: You take a shower and get ready for dinner. Lot of laughs, talking, drinks up… sharing all the adventures that you have lived of today.
20.00: There is still a day ahead! Maybe today we are going to watch the sunset all together on the cliff, or maybe we  will listen to a live concert at the camp, or we may go to the bars of Sagres … What you certainly know is that … this is the best week in the world !
Posted on
13 August, 2019